Actress Naomi Aki plays the role of Whitney Houston.
Author:
rebellious youth
As happens in dozens, hundreds, maybe thousands of biopics of a sanctifying and historical nature, the protagonist Whitney Houston: I want to dance with someone look at the sky or at the highest ceilings with open arms. This gesture, as it were, symbolizes the desire for heights, glory and apotheosis, which marks the existence of most artists biographed by cinema. Okay, this was a typical gesture in the performances of Whitney Houston, the most titled and popular singer of the 80s and 90s, but in the middle of this film, the gesture means that she, like any protagonist of this type of biography, has never had a lack of not in ambition, not in notoriety, not in the desire for initiation, and this is confirmed by the aforementioned film, which opens this week in several cinemas in the capital.
Died in 2012 as a result of accidental drug-induced drowning, as reported by an epilogue text that never happens in films of this type. Whitneyfilmed in 2015, directed by Angela Bassett, mostly focusing on her family issues with Bobby Brown and documentaries. Whitney: Can I be myself (2017) by Nick Broomfield and Rudy Dolezal, and Whitney (2018), Kevin McDonald. Thus, the film, released in Cuba, is the fourth attempt to depict, especially through flashes of initiation in his public life, a vital journey whose outcome remains in the shadow of the inexplicable. Of the four films, the one that provides the most solid elements for human understanding is Whitney: Can I be myselfso that the fourth attempt only has the possibility of repeating, as far as possible, the merits of the previous attempts.
For fans of this woman who has turned some of her songs into juggling vocal virtuosity, seeing the privileged throat is perhaps a must-have premiere, but four feature films in less than a decade have turned the singer's story into a chorus mush. and a well-known fact, given that it rightfully complements what some North American critics have classified as wiki biopicin a frank allusion to films about singers (Bohemian Rhapsody, Rocket Man, alignand many, many others) that are hardly more than a mere dramatization of the biographical summaries that Wikipedia usually publishes.
Of course, there are iconic moments of a stellar career, and data lists, and more data, victories and more victories. I quote from memory: there is, of course, a video recording I want to dance with someoneSuper Bowl appearance, filming Bodyguardconcert in honor of Nelson Mandela, TV show Oprah Winfrey… and on top of that, there's a string of number one hits, an almost endless list of awards, and moments of fan adoration, along with lesbian relationships, drug problems, a totally dysfunctional marriage, and even the decline of a voice that seemed to last forever.
They are not without merit. For example, the performance of Naomi Aki in the challenging lead role, Ashton Sanders as Bobby Brown, Nafessa Williams as her friend and love Robin Crawford and especially Stanley Tucci (whom we remember from notable appearances in Terminal or The Devil Wears Prada), who serenely and calmly takes the form of Clive Davis, producer and, above all, a true friend of the singer. Thanks to the talent of the performers, Whitney's relationship with Davis becomes one of the most suggestive elements of a film that director Casey Lemmons and screenwriter Anthony McCarten prefers to victimize its main character and present her as melodramatic and crying. puppet. Something similar happened with Blonde And Marilyn Monroe, but the history of Houston is classified, fortunately, a few points lower in terms of hysteria and exaltation of misfortune.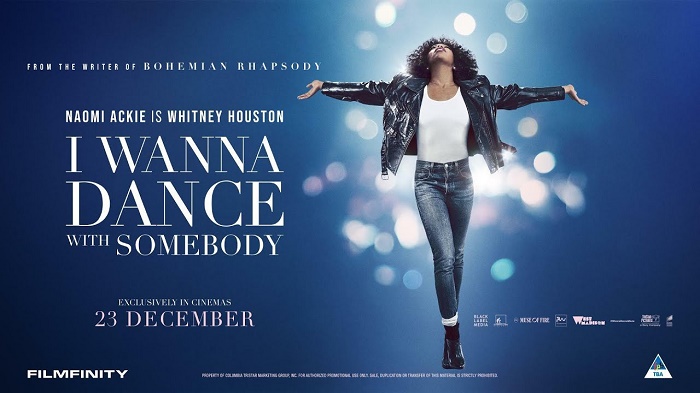 Movie poster.
The photograph of the British Barry Ackroyd stands out, regularly associated with the excellent realistic films of Kenneth Loach (The wind that shakes the barley, Rain of stones, Riff-Raff), but here her visual style is, in accordance with the project, disguised as pop glamour, and in this way she achieves the wonders of placing the viewer on stage, next to the constantly lonely singer (the title is a kind of appeal to the need that has always accompanied her in achieving a warm and understanding company). So, the film's best moments are tied to its musical moments, as a re-creation of the loneliness that comes with great talents, imprisoned by their unstoppable glory.
Because the film manages to not only (too) fully live up to the biographical movie clichés about famous singers in their moments of hard rise, skyrocketing fame and the many problems it brings with family, addictions, etc., but also fits the conventions of the musical, since the musical numbers "tailored" in such a way that they illustrate or comment on a particular moment in the life of an unfortunate singer, talented, rich, beautiful, beloved, more like contented in every way one can hope, but still unhappy, sad, lonely. And the few coherent explanations he gives fail. Whitney Houston: I want to dance with someone so that the viewer at least half understands such a paradox.
In short, the film has an irresistible charm already in that it makes us once again reach out to the sonorous voice that filled the entire space with vibrato and melismas in this amazing version. I will always love you. For some it's more than enough, for others it's just part of the soundtrack of a formulaic and superficial biographical gloss, devoid of not only any novelty, but also any complexity, for it only seeks to resell us the same story and the same musical numbers, both well known.
Source: Juventud Rebelde