The artists and audience of each of the presentations developed a special connection. Photo: taken from the Buena Fe Facebook page.
Author:
Taken from the artist's facebook profile
Music is a universal language, and through its notes it takes people to another dimension. Its magic draws souls like magnets to the heart to sow smiles throughout the city, which lives by its own rhythm.
Each concert becomes a reunion night that engages the community with its authentic way to complement life. The language of artists such as Buena Fe, whose latest album premiered; Karamba, who surprises us with a new album after 20 years of experience, and the duo Iris, who convey the message of love with their unique voices.
How did the idea of ​​a national tour come about?
— Buena Fe (Israel Rojas): This was the proposal of the Union of Young Communists (YUK), who called us to congratulate José Marti on the 61st and 62nd anniversary of the organization of the pioneers. It was a great opportunity when our new album comes out and we have the opportunity to tour all over the country with our songs. The idea was to complement Annie Garces in the morning or afternoon with a wonderful children's show known as mini catand open-air concerts at night.
Why was she named? reunion?
– Good Faith (Israel Rojas): reunion after all, after the pandemic, any brotherhood of creators is magical. A reunion between us, with songs, especially I think it was for that.
What do you think has been the most popular venue so far?
Duo Iris: Overall, it was special. The experience of meeting such a large group is nothing short of novel. Every place was different.
Buena Fe (Israel Rojas): In all scenarios, everything was very cool. When the tour began, many did not know how in Santiago de Cuba and Guantanamo. On social media, we saw a lot of people saying, "Wow! Why don't they come here again? Because they didn't recognize."
"It was from Bayamo that the news about this tour began to be heard and began to engage in promotion in the media. If you ask me which one was the biggest, I would say that for us, Las Tunas is a completely overcrowded area. Everything was impressive!"
— How do you evaluate the experience of three bands on the same stage?
– Caramba: An enchanting and sublime experience. We have known each other for a long time, and this contributes to the emergence and consolidation of what a tour can be. So many days away from home, on the same stage with friends who consider themselves your family while traveling, this is what we knew it would be, concerts full of feelings with an audience that knows it and accepts it.
Iris Duo: Pride and happiness is an opportunity to coincide with these two groups.
Buena Fe (Israel Rojas): It was something absolutely beautiful. For us inside, it was really a very hard, long and intense tour. But, on the other hand, there was a connection with the public; Everything I tell you will be a trifle compared to what we have experienced. It was a real reunion.
– What criteria do you follow when choosing a musical repertoire and how is the organization of the show going?
—Buena Fe (Israel Rojas): Especially when we release albums, we try to put in songs so that the show isn't boring, put in songs that anyone can sing, and also put in new ones. As long as it works.
"But it can also suffer from a bit of cuteness, as happened recently with my partner's many years of absence due to the unfortunate death of his father, and here we begin to transform the nature of the concerts in the order that the emergency repertoire was planned. For me, this is really a hard blow, because he was a very dear person; but as he taught Yoel and me, "the show must go on."
– From music, how can you build bridges between young people?
– Caramba: Sowing. I think the song "Sowing" is a great way to understand. You have to take care of the youth, be aware of the transfer of values, at least try.
Iris Duo: Stand up for good lyrics and broadcast values.
Buena Fe (Israel Rojas): Creating a great mood, the essence of good words. Find a way in which conscientiousness prevails in times of division.
How do you describe your music?
– Karamba: Cheerful, special when it comes to deeds and words, divergent. This is a live show.
Iris Duo: Brings messages of love, peace, togetherness.
Buena Fe (Israel Rojas): If you ask me, I will fill it with beautiful adjectives, but you have to ask people.
– What motivates you to continue to engage in poetry and lyrics?
– Conscientiousness: (Israel Rojas) I am archaic. I guess these days I'd line my pockets with money writing songs with swear words, but I don't know how I could look at my daughters' faces.
Iris Duo: Indulge in beauty and novelty.
What are your plans after the tour?
– Duo Iris: When we finish the tour, we are going to lock ourselves in the studio to release the next album; It will be a different album in terms of concept, formats, rules and ideas. We are very excited about future projects that can be presented.
Karamba: You can expect anything, we are hardworking. In fact, we are celebrating 20 years and as part of a closed anniversary, we not only create projects, but also hold many festivals. At the end of the tour, we joined the 12th. edition of the Bridge to Havana.
new album From within, which recently entered the market, did not have time to present itself in the way it is usually done; The stars agreed with this, because the tour is not always given with a freshly baked record. Coming out of the relief of the pandemic and full of inner emotions.
Buena Fe (Israel Rojas): True Album Housing just the beginning. It remains to protect it so that it reaches as many people as possible, because the public deserves it, whether it be live concerts, international concerts, as well as working hard on the issue of promotion, being very picky.
Music, joy, lightness with Buena Fe, Karamba and duo Iris because "friendship is a pleasure to be earned" and these three bands meet their people to sow the future.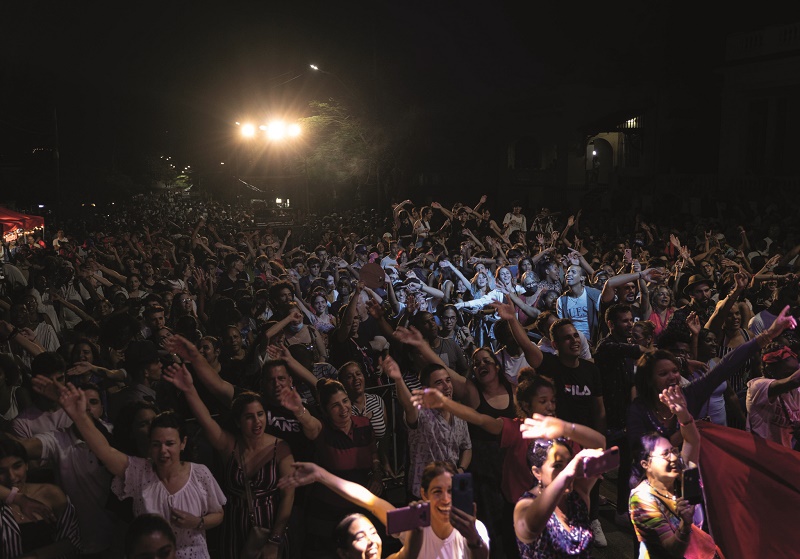 The artists and audience of each of the presentations developed a special connection. Photos: Taken from the Buena Fe Facebook page.
Source: Juventud Rebelde