Many Cuban romantic boleros were born thanks to the talent of the composer from Las Tunas, Pepe Delgado.
Author:
Weekly archive 26
LAS TUNAS — Cuba shines in the musical universe with the excellence of its music. Here debuted some of the rhythms that over time gained extraordinary fame in the world. It's danzón, mambo, chachacha, rumba, conga… Casta dancers have always had a hard time keeping their feet when a Creole group performs them on any stage.
The works of several authors have crossed national borders. Miguel Failde internationalized the danzón; Miguel Matamoros brought popularity to the Cuban son; Damaso Perez Prado made mambo famous; Ernesto Lecuona, Garcia Caturla and Amadeo Roldan wrote music for the lyric theater; updated jazz by Chucho Valdes; Chano Pozo created the era of percussion… So, Benny More, Formell, Portillo, Omara, Compay Segundo, Aragon, troubadours, in short…
It is obvious that the list contains only a small part of those who should be included in it. These are names recognized for the quality of their endorsement, the mere mention of which is enough to start a celebratory or meditative environment to sprout. However, there are musicians who, despite their prestige and training programs, are hardly mentioned. Among them is José Delgado Pérez from Las Tunas, known on the music stands as Pepe Delgado, the pianist and composer to whom we owe some of the most famous boleros in the Cuban music catalogue.
Unknown
Pepe Delgado was born in the former Victoria de Las Tunas on May 17, 1920. The son of a school teacher and a Baptist minister, he grew up around chords and edginess, as many of his friends were musicians. Therefore, it is not surprising that he entered one of the academies that existed at that time in the city with the aim of learning to play the piano.
He was only 15 years old when he started showing off his black and white keyboard skills at local movie theaters. Their performances served as background music for silent films of the time. He also accompanied several of Las Tunas' most important cultural figures on the piano at the time and was for a time part of the Gigante Miramar orchestra.
In 1940 he decided to broaden his professional horizons and set up camp in nearby Holguin. There he worked with the Tentacion Orchestra and other bands of various formats. The city of parks has become a springboard for achieving big goals. Thus, in 1945 he settled in Havana to study at the Amadeo Roldan National Conservatory. In the meantime, Pepe was the pianist in the ensembles Jovenes del Cayo, Casino and Colonial, which were among the best at the time. He toured with his line-up and performed in a large part of the island territory.
To date, he has already composed songs that later became extraordinarily famous performed by popular groups and singers. These were the boleros things of the soul, Owner of my heart, when you want me, Your eyes And Do not think so. Cha-cha-cha Leave for the moon And Tothiri MundachiAll of them quickly took root in the popular taste.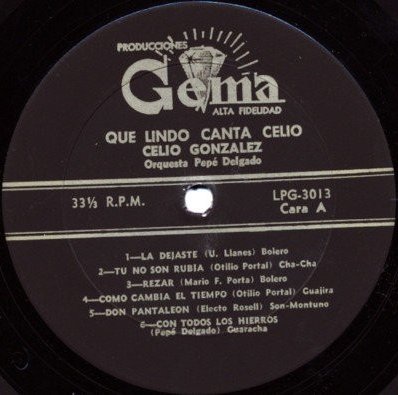 The GEMA record label helped Pepe Delgado's orchestra to demonstrate its credentials.
The late Professor Salvador Regueira, recipient of the 2008 Cubadisco medal and researcher of Pepe's work, said of him that "when he arrived in Havana, composers like Orlando de la Rosa and Isolina Carrillo were in vogue and enjoyed great prestige." He also triumphed over the quality of his themes, the lyrics of his songs, the depth of his feelings, and the coherence of his lyrics. In addition to being an outstanding composer, he was an outstanding pianist."
It was the 50s of the last century, and Pepe Delgado began to enjoy great popularity. On August 16, 1952, the later famous quartet Las D'Aida, created by the pianist Aida Diestro and which included Omara Portuondo, Elena Burke and Moraima Secada, debuted on a television program. afternoon show with a song things of the soul. The repertoire of the famous band also included other songs by Pepe.
In the capital, Pepe Delgado became the favorite accompanist of Pacho Alonso, pianist at the Sherezada cabaret. Pacho was at that time one of the fashionable bolero performers. To his keyboard playing he added his competence as an arranger and orchestrator. He also served as music director for other famous Havana cabarets and directed
star label. To date, his musical catalog includes genres such as boleros, danzones, guaracha, sones, chachacha…
Among the Cuban bands that made hits with some musical themes composed by Pepe Delgado was Roberto Faz Conjunto. Indeed, this group included them in their favorite mosaics, those combinations of boleros that have always enjoyed the favor of the public. They are still heard by our stations from time to time.
Mexico in his work
In 1962, Pepe Delgado settled in Mexico to get a work contract. In the land of the Aztecs, he wrote music for several films, including God save you, psychiatrist. (1966). He founded his own orchestra, whose excellence lies in the interpretation of the play. Where are you love (from the Spanish Luis Martínez Serrano) led to it being included in the list of the 100 most important boleros of the 20th century.
After a short stay in Puerto Rico, also engaged in musical activities, he left for the USA in the late 80s. There he led the orchestra Les Violins, where Roberto Ledesma sang. He also continued to serve as music director for GEMA Records. From his position, he advocated the launch and rise
Important Cuban figures such as Elena Burke, Miguelito Cuni, Pacho Alonso and Rolando Lazeri, among many others, have interpreted their productions. Likewise, he was the patron of the Gran Combo in Puerto Rico.
According to Carlos Molano on the Encuentro Latino web portal, Pepe Delgado's songs have been interpreted by famous Cuban singers such as Vicentico Valdes, Lino Borges, Mundito Gonzalez and Orlando Vallejo. Also foreign vocalists of the class are Armando Manzanero, Pedro Vargas, Toña la Negra, Oscar de Leon, Lucho Gatica and Libertad Lamarck.
Pepe Delgado did not give up keyboards and composition until the last days of his fruitful life. An ancestral musician, he turned his existence into a harmonious hymn to perfection. The musician died in the USA in December 1990.
For young Cubans, the name José Delgado Perez, known in art as Pepe Delgado, certainly does not evoke any memories. On the other hand, for those who are older than them, some of its over a hundred romantic themes may be familiar to them. The fact is that, despite his actual ignorance, his work continues to touch hearts.
Source: Juventud Rebelde