Venezuela is the second destination for Lavrov, who started the week in Brazil and will arrive in Cuba on the 19th.
Author:
rebellious youth
Russian Foreign Minister Sergei Lavrov during his visit to the Bolivarian Republic and Venezuelan Ivan Gil proposed a joint press conference in which they celebrated a fruitful working meeting to strengthen relations between the two strategic partners and in which they devoted themselves to "agreement on and coordinate the position" that their countries occupy "in multilateral forums such as defending the principles of self-determination, sovereignty and world peace."
In addition, "Russia and Venezuela share all the principles of the UN Charter," said Gil, who received his partner at Casa Amarilla Antonio José de Sucre, headquarters of the Ministry of Foreign Affairs, where he greeted the country in RussianThe name of President Nicolás Maduro and the people of Venezuela.
Later, Lavrov will meet with Vice President Delcy Rodriguez and President Nicolas Maduro, the Russian Foreign Ministry said.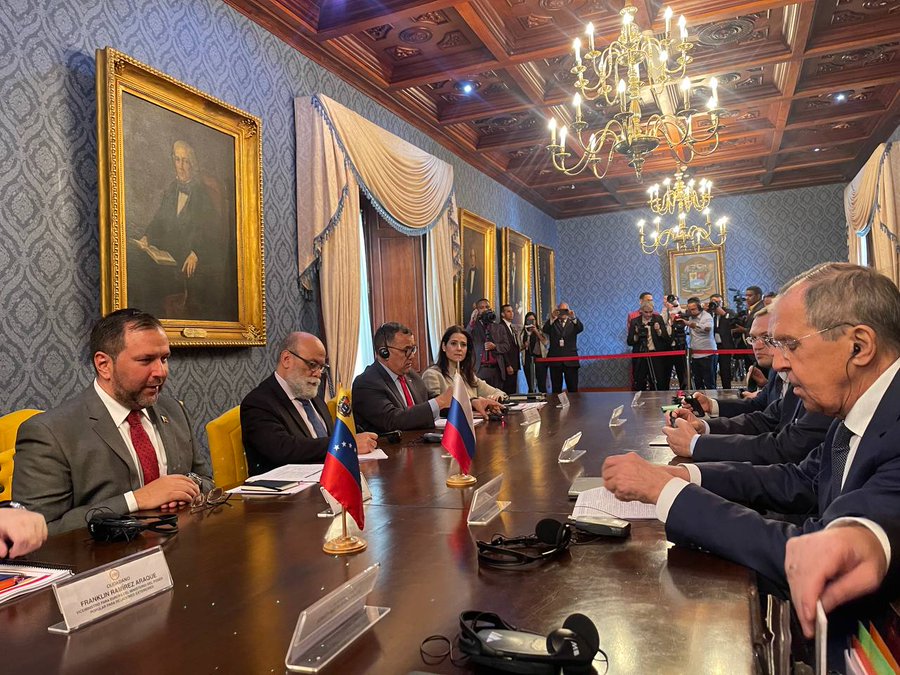 "Mover 300 contracts We have signed, we have signed between the two countries," the Venezuelan Foreign Minister recalled during his statements. "To date, Foreign Minister Lavrov and I have considered these aspects, we have committed to keep moving forward" and added that the greatest attention is paid to aspects energy, financial and commercialdesigned to "increase food imports and exports," RT published.
The Twitter accounts of the Venezuelan Ministry of Foreign Affairs and Minister of Foreign Affairs Gil revealed that Sergey Lavrov said they would do everything possible to make the Venezuelan economy independent of US pressure and sanctions, and made it clear that "Venezuela and Russia share the principles of equality and respect as a way to achieve balance" in the new world. what is developing.
For his part, Lavrov pointed out that "Venezuela is one of Russia's most reliable partners.". "Our states are bound by a close strategic alliance based on conceptual proximity approaches to major issues on the global agenda, mutually beneficial projects, strong bonds of friendship and mutual sympathy between peoples", – stressed the head of the Russian Foreign Ministry.
According to him, both countries plan to develop numerous projects in various fields, including oil production, gas, agriculture, medicine, space and new technologies, RT reports.
"Our relations have been tested by various crises, attempts of pressure from abroad and, in spite of everything, are successfully developing and will continue to develop regardless of the political situation," he said.
Both Russia and Venezuela are in favor of "defending the right of peoples to determine their own future, their own destiny, without outside interference, without dictate and blackmail and without attempts to influence them through illegal unilateral restrictive measures, which are now being practiced by the collective West," the head of Russian diplomacy said.
Among other topics, Lavrov and Gil also touched on the conflict in Ukraine. The Minister of Foreign Affairs of Russia noted that he had discussed with his colleague the issue of "how can the Kiev regime be expected to represent the interests of the inhabitants of Crimea and southeastern Ukraine׃ if the "Western masters" of Ukrainian President Volodymyr Zelensky demand the return of these territories "by force"despite the fact that its inhabitants chose by referendum to join Russia.
Lavrov recalled that recently the representatives of Kiev promised that if Crimea returns under their rule, the first thing they will do is destroy the Russian language and culture on their territory in order to realize the dominance of Ukrainian and world culture.
Venezuela is the second destination for Lavrov, who started the week in Brazil and will arrive in Cuba on the 19th before ending his tour in Nicaragua on April 21st.
Source: Juventud Rebelde