Arnaldo's perseverance and accompaniment of his Taliman, institutions and anonymous people made Pina Colada possible.
Author:
Michel Guerra / newspaper Invader
CIEGO DE AVILA. The curtains were drawn. But in my own way. As it has always been for 20 years. With music, with artists, with dancing and with people singing in the streets.
With this 2023 edition, the Piña Colada Fusion Music Festival celebrated its twentieth anniversary. They say it's easy, but it's not.
It sailed against the winds and currents, and here it is: thanks to the perseverance of its president and creator, Arnaldo Rodriguez, a young Cuban singer and songwriter, as well as, as he repeats, the accompaniment of institutions in Ciego de Avila and the many anonymous people who supported the project.
However, El Piña has another side. What he left to the country and the province of Ciego de Avila.
What is your heritage? What was good about it? How do people who lived through it and at the same time were part of the event see it?
Even Lucas showed up
Asked about the significance of this event, Yunier Mackenzie Francis replies loudly: "Pina colada has placed Ciego de Ávila on the cultural map of Cuba."
At first glance, this may seem like an exaggeration, but the H'Cuba band director knows what he's talking about.
"During the event, several talents emerged," he explains, "and they were presented to the producers who came from Havana and launched it with the help of the festival."
He says this from his own experience: thanks primarily to the work of the musicians and the meeting rooms, the group, one of the most emblematic in the province, has achieved fame, which has allowed it to be nominated for the Lucas Award three times. Award with their numbers based on fusion music.
Thermometer
It may seem to some that this is a festival of only musical performances. His goals, in truth, went further.
Since its inception, the event has protected its rural air, which is one of the reasons why it is always held next to April 4th to celebrate the anniversary of the Union of Young Communists and the José Martí pioneer organization.
In addition, one of his vital highlights was the space for theoretical exchange on the most current issues and trends in Cuban music, prominent in his symposium "Music and Youth", the seventh edition of which was listed in the preamble to the event.
Another goal is to recognize the figures of Cuban and Avilian culture. This particular edition is dedicated to Cesar Alberti Orozco, an outstanding teacher, musician and conductor from Ciego de Ávila, whose centenary is celebrated this year and who, until his death in 2011, played an important role in the development of artists and musical groups.
There were also exchanges, so many professionals consider the festival an excellent platform for sharing knowledge.
"You have a thermometer to measure your work based on what you visualize in contact with the greats of Cuban music who participate in Piña," says Noslen Jiménez Arias, musician, leader of the dance music orchestra Sabor Sin Límites. .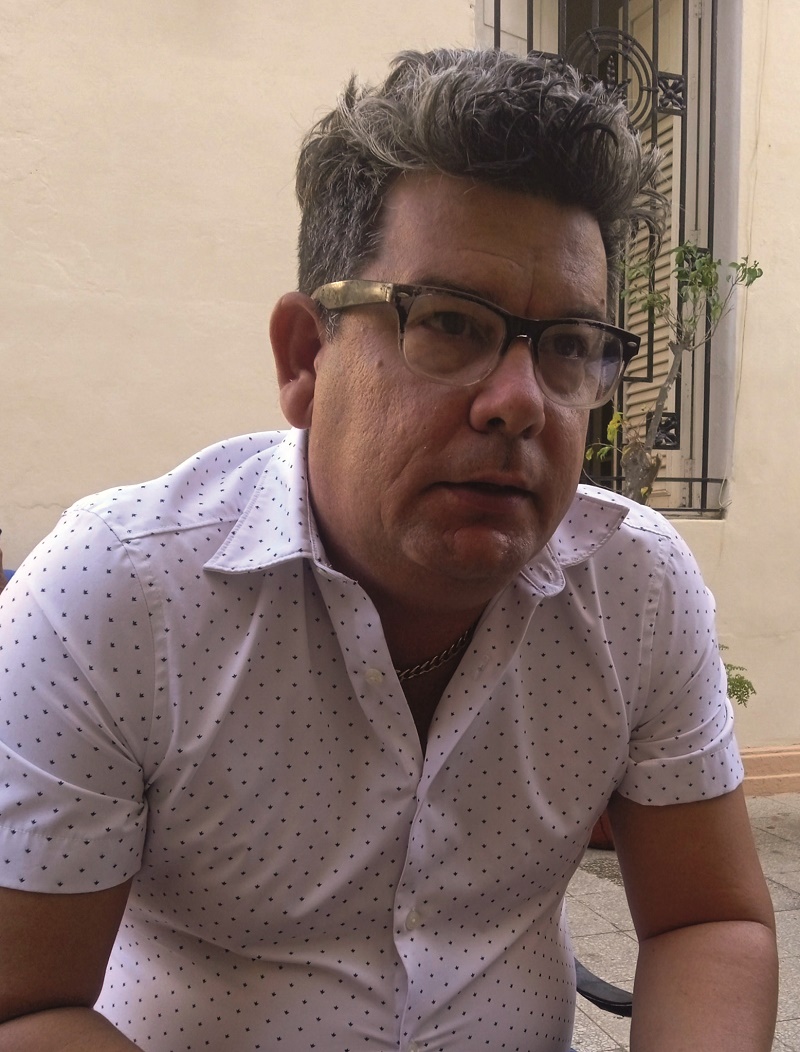 For Noslen Jiménez Arias, director of the Sabor Sin Orchestra Limitations, the festival is a place where you can find out where you are.
the path of every artist.Photo: Luis Raul Vazquez Munoz
Having been in the Musicávila catalog for over 20 years, Noslen has been to almost every festival.
"It was very enriching," he notes, "thanks to the exchange of criteria, ideas, visualization of the aesthetic-musical concepts that you work with.
"When you meet with the members, you hear their opinions, you listen to their numbers, you say: well, I have to improve, I have to go this way, I have to take into account this perspective without losing the essence and strategy, which is musical."
Yes, but there's more
Other artists consulted agree with this criterion, such as Alejandro Cosme Quiñones, young general producer for Yankiel DJ and the Habana Team Cuba project; soloist Yomel Sanchez and Betsaida Velazquez Navarro, leader of the Aroma group and member of the concert group and instrumental ensemble Música Abierta.
Soloist Yomel Sanchez (right) and Yunier Mackenzie Francis, leader of H'Cuba, believes that Pina contributed to the placement
Ciego de Avila on the cultural map of Cuba.Photo: Luis Raul Vazquez Munoz
However, they believe that over the years the festival has acquired something more.
"I started in Pina Colada as a spectator, as a person," says Becaida, "and in that sense it was very good, because it is very difficult for top-level orchestras to come or approach these provinces."
They believe that Pina Colada has given the population a first-hand, direct connection in their neighborhoods with the artists they see on TV, movies or social media.
"I can talk about Pina Colada from the Hermanos Saíz Association, where I come from as a musician," says Yomel Sanchez.
"This is one of the most important events to popularize the creativity of young talents. We have to thank Arnaldo for this, who has always supported our space.
Betzaida Velazquez Navarro approached Pina Colada as viewer. Today she does this as one of her translators. Photo: Luis Raul Vazquez Munoz
"But I think there is more to the Festival, and I say this not as an artist, but as part of this city.
"Pina Colada was the event that brought Ciego de Avila out of the state it was in with COVID-19.
"Let's remember that there were no carnivals or folk festivals or anything else because they couldn't be done and because there was a psychological lethargy due to the tension of the pandemic.
"The pandemic is gone, but its consequences remain, this is a memory. And suddenly Pina appeared with all his artists.
"In other words, the festival was the one that broke those COVID-19 marks. Because he gave us parties and music back. He brought us joy."
Source: Juventud Rebelde