Magali has been between cinema and actors for over six decades.
Author:
Yoelvis Lazaro Moreno Fernandez
Her eyes became redder than a ripe tomato the day she married her daughter's father, due to so much dust and paint on her face. And since that memorable wedding day, she parted ways with what, paradoxically, was her faithful companion and one of the greatest loves of her life: cosmetics.
"I never paint or repair myself. I suffer from allergies, which is a terrible thing. That is why you will always see me as I am today. Not even because they told me they were coming to interview, I changed my mind," says Magali Pompa Batista, a woman who never believed in shadows and blurring of anonymity, with a strong character and a seriousness that amaze. his work was successful as he arrived at the ICAIC studio at the age of 18, a few weeks after arriving in the capital to receive a scholarship and try his luck, hailing from the countryside of what is now the province of Granma, his birthplace. . With time and perseverance in her favor, she established a chair in the art of nuances, features and styles in Cuban cinema, between sets, dressing rooms, sponges, brushes, tweezers and brushes.
In addition to rightly acknowledging her dedication, some critics and specialists have considered it an act of historical justice to present the National Film Award in 2023 to this simple and virtuous make-up artist, from whose hands the anthological faces of our filmography came out.
The craftsmanship and honed talent of Magali are largely due, for example, to the strict characterizations of prominent figures in history, music and literature that have been featured in Cuban cinema, such as Martí, Maceo, Maximo Gomez, Cecilia Valdes, Benny More and many other names that would impossible to mention here.
There are more than 40 productions, both Cuban and foreign, most of which are symbolic, in which he left his imprint of an integral artist, without the glitz, shaving or glamor of vanity that transforms him, rather from sincerity, which is dumb, and from a collection of words, which at first glance may seem shy. But no: this is directness and prudence with herself, what she learned from those who taught her.
"With Professor Rolando Zaragoza, the master of the specialty, from whom I took my first lessons when I joined the ICAIC make-up group on September 3, 1962, and soon after with the Czechoslovak specialist Vladimir Petrina, I realized that this work requires a lot. observation, because looking at everything at once learned to make implants, beards, mustaches, goatees and even wigs. And it also requires a lot of concentration. You must be silent, almost dumb, otherwise you will amuse yourself with something and stop doing what suits you.
"I don't mind being called stupid, unbearable, but there should be silence in my living room. I am very demanding." And this last phrase is repeated to me again and again during our dialogue, in which, as in a game of guessing films, I was sometimes forced to combine titles, directors and main roles in order to stretch my memory and speak low about this modest and almost unknown living encyclopedia of our seventh art.
Of all the films you've been in, what's your favorite?: Lucy, from 1968, and thereafter, its most charming director was Humberto Solas, as were his favorite actresses who starred in three landmark episodes of this classic: Raquel Revuelta, Adela Legra and Eslinda Nunez. She says this categorically, although she notes that she likes almost all the performances in which she has taken part, maintains good relations with the actors of any cast and does not remember having problems with those who directed or helped her, because she knows how to take his place and do what he has to do.
I ask her, at the height of her 77 years and with a fullness of creativity that still keeps her active, about the complex trances in her over sixty years of work that required her to be cunning in the face of confusion, and she explains that there were so many, that he can't remember them all. But he sensibly recalls, unable to specify the work, year or director, a shoot in the middle of summer with Jorge Perugorria, Pichi, in which the winter atmosphere was recreated, and they did not know how to prevent this man from almost melting in the middle of him, terribly hot. You should have made August look like December. So she had to carry around two very cold containers wrapped in suede all the time, from time to time stick them to the actor's face and thus keep him from sweating so that the face imitates freshness and the makeup performs its function.
He talks about methods to achieve the most dissimilar characteristics that are required, and notes that aging is the most difficult thing that requires the most care and patience. "Besides, it is not done from one moment to the next. Sometimes it takes time and requires resources that are not always at hand. They are also brought by the infliction of wounds or bruises, both on the face and on the body.
—You are one of the first to arrive at work…
Yes, among the first. Often, packing at home during filming takes place very early, usually at five in the morning.
"Once the actor is ready to shoot, is the make-up artist done?
"No, what happened?" You must be on set at all times or at the location where you are recording. We cannot for a moment ignore what is happening on the stage.
– How many things can happen?
– A lot of. That the actor begins to sweat, that his mustache or wig falls off due to some kind of negligence, that the paint flows, that he accidentally runs his hand and wipes part of his face … We must be there to resolve any incident that takes place.
— How should a specialist in cinematic make-up differ?
– First of all, discipline, but also skill, a spark of development and creativity, without this personal initiative going against what the director and his assistants ask and decide. Respect is above all, because we, make-up artists, do not dictate. We are here to serve, we are part of the creative team. And after the desired is clearly defined, our work begins.
How is this consensus built?
"On pre-production work. There we participate in all involved technical specialties: make-up, hairdressing, wardrobe… and others. Make-up artists have to read the script, and together with the assistants we look for photographs, if any, of a historical figure, culture or literature to be presented. Almost always you have to learn, oppose, balance. Makeup in the cinema is not about applying base and blush, as some people think.
"You have to feel comfortable in what you are doing. More than once I had to say to more than one director: "Calm down, let me work. I know what I'm doing."
-Professional hazards?
-A lot of. Hygiene is essential. You can not use the same sponge for everyone, because diseases, acne can be transmitted. You need to know which brush to use to line your lips or remove dark circles, for example. Each character has its own special characteristic, and each actor, depending on his face and what he is going to interpret, has his own interpretation.
Do you then agree that some people reduce what you have been doing for almost your entire life to a simple function of creating appearance?
"No, at least in movies, but also in theater and television, makeup is essential," and this seasoned veteran insists it should be treated as art. Therefore, she believes that some characters can belong to her no less than to an actor. "The actor conveys an attitude, but I put on his wrap, wrap, that if it doesn't work, the audience is unlikely to believe what they see.
"In other tasks, makeup can be more or less important. However, wherever you need to know how to do it or let it be done. I've seen every exaggeration of face painting there that scares me. There are people who, because of tricks, instead of looking good, what they give is a shame, they look ugly. If it is not done in moderation, it loses its grace. And don't give more than you need. The more natural everything is, the better.
Magaly does outdoor retouching during filming. Age of Enlightenment (1992)Humberto Solas. Photo: provided by the interviewees.
Together with dedicated actresses Consuelo Vidal, now deceased, and Daisy Granados, who share a good friendship. Photo: provided by interviewees
Some of the many images that Magali cherishes are moments shared by crew members during the filming process. Photo: provided by interviewees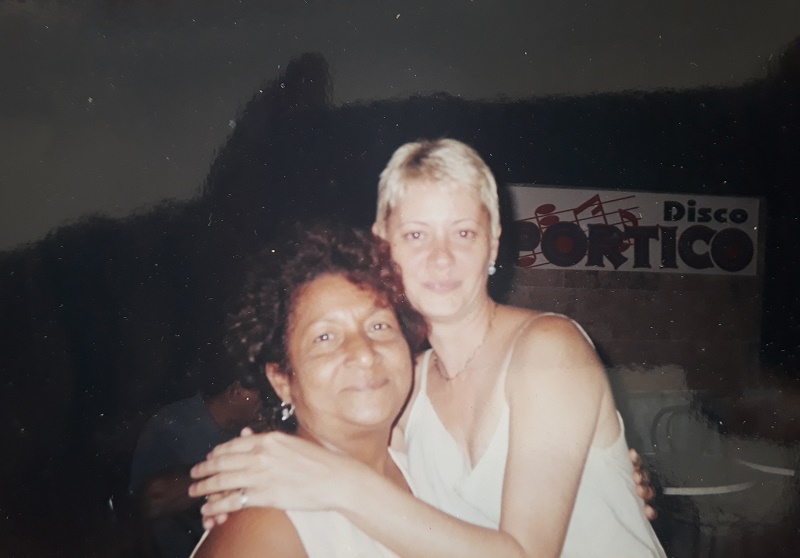 Tenderness and admiration have always distinguished Magali's working relationship with actress Thais Valdez. Photo: provided by interviewees
With special dedication, the make-up artist outlined the wound on his face. Photo: provided by interviewees
An aged face designed by Magali for the character played by actor Manuel Porto in the film. Life in Pink (1989). Photo: provided by interviewees
Source: Juventud Rebelde